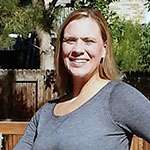 Helping adults obtain a degree to change their life and career is the base of CSU's foundation.
For wife and mother of four Janelle Andre, this is exactly what she has been wanting to do for a long time.
"I have an image in my mind, and I will do whatever it takes to become the best nurse that I am able. I have always known that I wanted to have a career in the healthcare field," said Andre, a hospital staff coordinator in Littleton, Colo. "Growing up watching my mother, I wanted so badly to be just like her. Over the years, I have learned so much just by watching and asking questions. I have shadowed ER administrators, doctors, and nurses which has led me to where I would someday like to be. I envision myself managing an ER on my own with the help of my degree."
With the Hero Behind the Hero Scholarship, Andre might be able to do just that as she pursues an online bachelor's degree in health care administration.
The scholarship honors the spouses and children of active-duty public safety personnel (firefighters, law enforcement officers, EMTs and dispatchers) and National Guard and active-duty military men and women, and covers tuition for up to 24 months for one specific online degree program with CSU. The scholarship is awarded six times a year.
Andre, dedicated wife of firefighter/paramedic Cody Ray Andre of Littleton Fire Rescue, said she is eager to get started on her degree and realize her career dreams.
"I have waited so patiently and have been a huge support throughout my husband's journey. This is now my time to shine!"
To learn more about the Hero Behind the Hero Scholarship, please call 888-785-3006 or send an email to hero@columbiasouthern.edu. If you would like to learn more about CSU, please visit www.ColumbiaSouthern.edu.