How long have you worked as an Outreach representative?
I have worked as an Outreach rep at CSU for four years.
Which degree program(s) do you represent?
The programs I represent are: occupational safety and health, environmental management, and fire science.
What do you enjoy most when meeting with partners?
I like meeting with our partners because they get to put a face with the university. For example, I have been emailing a training chief for the past six months who missed my first visit to his fire station in January. When I returned just last week, he was so excited to actually meet me. It helps to build the relationships that we work so hard to maintain by email and phone!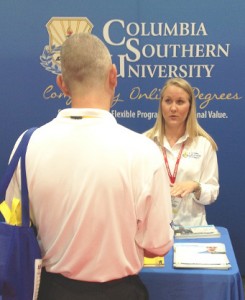 Please share an interesting story about someone you've met during your travels.
I have a firefighter that I have been working with for the past six months. He is a deputy chief with his department and going back to school at this time really won't help further his career. He chose to go back to school and finish his degree because his son was starting college as well and he wanted to motivate him and show him it could be done!
Describe your most memorable moment from one of your travels.
A couple of years ago, I had the pleasure of attending a Police Chiefs and Sheriffs Conference in Deadwood, S.D.  I had to fly into Casper, Wyo., and drive to Deadwood. My flight got in really late so it was dark out when I was driving to the hotel.  After the conference ended, I got in my car and made the three-hour drive back to Casper.  I got to see Mount Rushmore and the Crazy Horse monuments as I drove and it was absolutely beautiful!
What are your top three travel tips and why?
I always carry-on a change of clothes and my toothbrush!
Once I book a rental car for an upcoming trip, I always check three days before my departure to see if the prices have dropped. Rental cars are really easy to cancel and the prices have usually dropped since booking.
Overpack! You never know what you are going to need when you are traveling.
Where is your top choice for travel and why?
I love going to San Diego. The Gaslamp District is so much fun and the shopping and weather are great!
Tell us about your last trip for CSU.
I did a week of partner visits in Birmingham, Ala.,  and Nashville.
What quote inspires you most?
"Nothing is impossible. The word itself says I'm possible!" — Audrey Hepburn
Where are you traveling next for CSU and why?
I will be heading to National Harbor, Maryland for the National Voluntary Protection Program's Participants Association Conference.