CSU is now making Remote Proctor Now available for students in need of a proctor to an exam.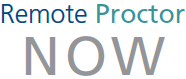 Remote Proctor Now is an on-demand, third-party, webcam- based alternative which allows students to sit for an examination through use of video technology.  CSU students now have the flexiblity to take the exams anytime with Remote Proctor Now.
Students must have an operational webcam with audio, a high-speed Internet connection and appropriate system rights required to download and install software. During the exam, Remote Proctor Now will access the student's webcam and microphone to record the examination for academic integrity review.
Beginning Dec. 18, students can request Remote Proctor Now by submitting the "Request to take Final Exam Online Form" in the myCSU Student Portal.
To learn more about this innovative method of proctoring, watch this video.
If you have questions, please feel free to contact Student Services by phone at 877-323-4471 or by email at students@columbiasouthern.edu